I recently attended DrupalCon Amsterdam, in order to find out more about using Drupal as an enterprise-level content hub as part of a larger customer experience platform.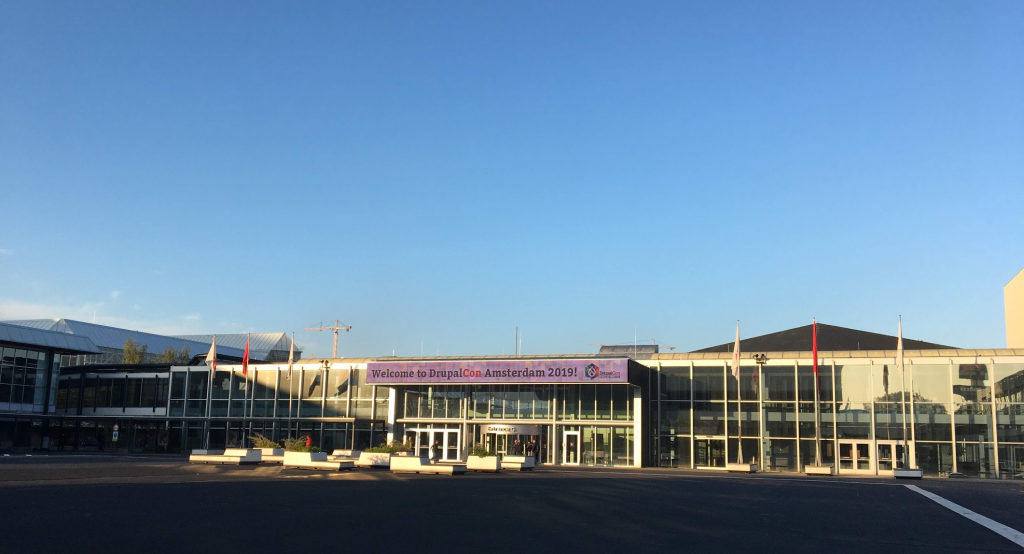 Acquia Partner Summit
The first event I attended was an Acquia Partner Summit to find out more about Acquia's newest acquisition Cohesion, which is a low-code solution to build Drupal sites.
The Summit, hosted by Joe Wykes and the Cohesion team, covered a number of Acquia solutions, including Cohesion, Mautic and Acquia Cloud. The Summit also included a Q&A session with Dries Buytaert, Joe Wykes and Steve Williamson.
Driesnote is the keynote talk from Dries Buytaert, the founder and project lead of Drupal an update on the present and future of the Drupal project.
During this keynote Dries mentioned:
Drupal 8.8 is on schedule to be released in December
Drupal 9 readiness module is available to be run on Drupal 8 sites to assess the readiness of any custom Drupal 8 modules and a new flag to add to a module's .info file to indicate Drupal 9 compatibility
A new frontend theme for Drupal called Olivero to modernise the default frontend that Drupal is shipped with
The progress made with the JSON API and composer installs and upgrades
The auto-update functionality is making good progress and Phase 1 of which should be stable by the end of the year
Dries then continued to discuss the future of Drupal 9 and the tracks required to make Drupal better for all types of users, especially those new to Drupal.
Decoupled Drupal
There were a number of talks discussing decoupled Drupal, the process of using Drupal as a content hub and using a separate system to render the content. The systems discussed were Vue.js, Gatsby and React.
Enterprise Customer Experience platform
A large focus of the conference was about Drupal being more than just a CMS, using it instead as part of a wider range of tools to act as a Content Hub. This included Personalisation, Automated marketing and Alexa Skills publishing.
An interesting talk titled "Stop buying Drupal websites, buy open digital experiences to increase customer life time value" focused on the functionality offered by the Dropsolid platform. The talk focused on using OpenSource software to reduce costs and to enable mobility of data and functionality by reducing vendor lockin.
DevOps
There were a range of talks focusing on DevOps, including deployment techniques and log monitoring.